Freeway Free in California: A Serene Escape from COVID-19 Stress
I live in a COVID-19 hotspot – 43 cases and one death since the beginning of March – and public and private events are being cancelled left and right to prevent transmission.  So what is one to do if you are healthy, not in one of the "vulnerable" groups, and needing some relief from the stress of it all?  Maybe it's time to visit a local museum.
The Asian Art Museum in San Francisco is one of my favorites.  I visited this week and found plenty of parking in the Civic Center Garage ($12.00 for 5 hours), two featured exhibits of great interest, no crowds, and decent food at the museum restaurant.  And if you are looking for stress relief, Asian art is all about serenity.
The exhibit that drew me to the museum featured Zhang Da Qian (Chiang Dai-Chien in traditional transcription) who was the Pablo Picasso of 20th Century Chinese art.  His work spans styles ranging from impeccable copies of venerated Chinese master artists of the past, to modern splash-ink impressions worthy of Jackson Pollock.  He lived in mainland China, Brazil, Argentina, Taiwan, and California, and in each venue did his best to promote appreciation of Chinese art.  One of the featured works in this exhibit is titled "Scholars on a wilderness path", but the giant monolith in the background must be Half Dome.
Other paintings include a marvelous white gibbon, a black horse grazing in a blue-green pasture, a Tibetan dancer, several giant lotuses, and landscapes formed from giant splashes of ink enhanced with a few brush-strokes to define space, foliage, light, and dark.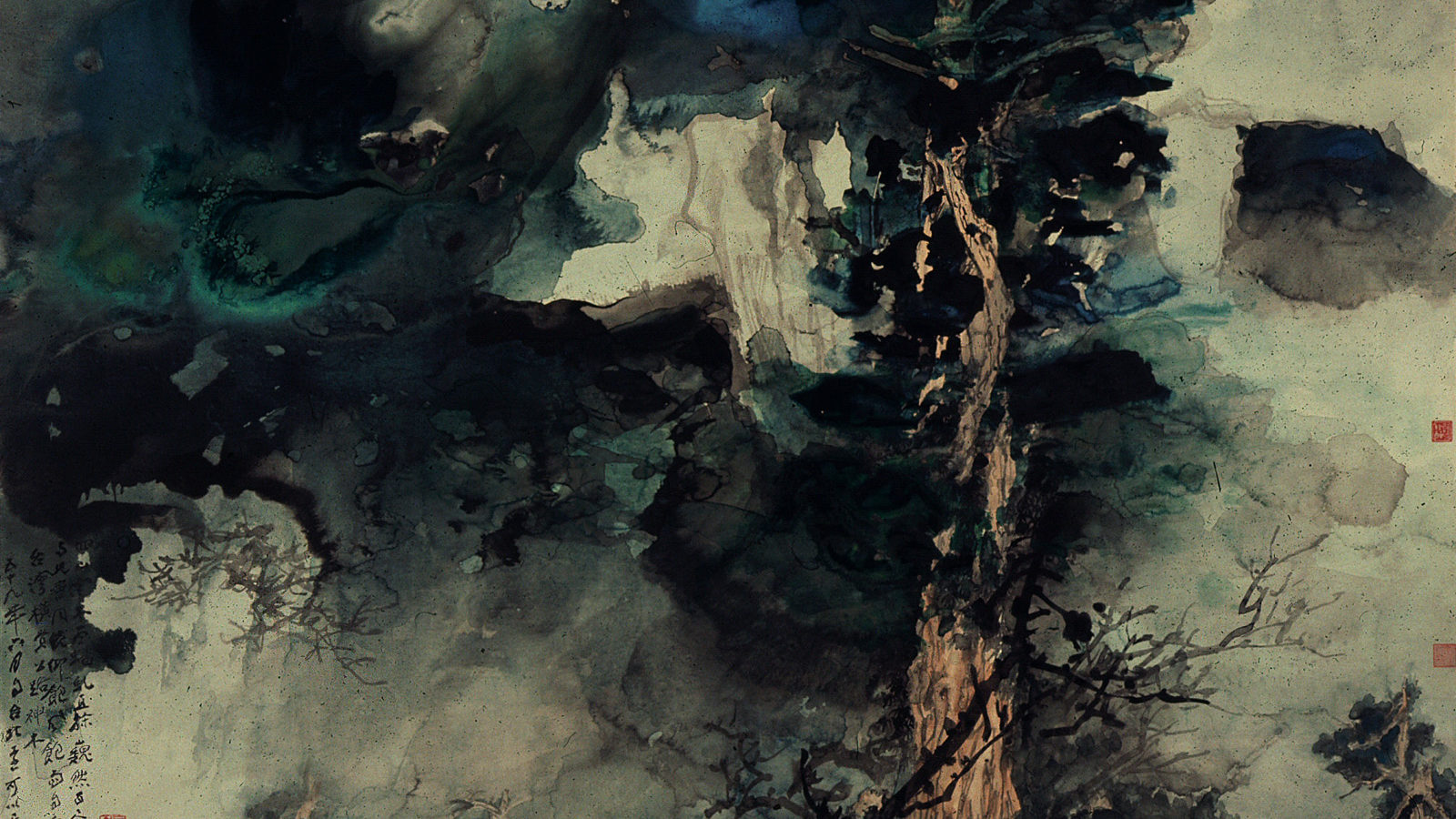 After studying Zhang's various works, a stroll through the adjacent Korean gallery offers a different range of experiences.
You can admire a glowing white "moon jar", pristine on its wooden shelf, and discover an Asian precursor of the classic patchwork quilt, made from silken scraps.
Or perhaps you will spend some time in another featured exhibit, called "Awakening" which walks you through several centuries of Buddhist tradition, juxtaposing ceremonial vessels made from human skulls, many-armed monsters intricately carved and painted, and dainty gilded bronze sculptures celebrating sensual tenderness.
Or maybe some of the more modern pieces will appeal to you, like this sculpture by Liu Jianhua formed of letters and Chinese characters on view just outside the Korean section.
The museum restaurant,Sunday at the Museum, features Asian style street food such as Vietnamese Pulled pork sandwiches, Japanese ramen noodles,  and Chinese dumplings.  You order at a counter and the food is brought piping hot to your table.  Of course you could get better Chinese food in Chinatown, better ramen in Japantown, but the setting attractive and the service is fast and friendly.
If you have children tossed out of their school/daycare, the museum usually has some activities geared toward children set up either in an activity area or  in the Shriram Learning Center on the first floor.